Servo Electric Creep Controllers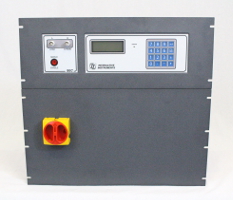 The Servo Electric Creep Controller is designed as a substitute for dead weight

creep stands, transforming them into a low cost automated load stroke or strain controller system. The controller interfaces with two of our load actuators for continuous loads up 5000 lb. and 10,000 lb.
The actuators can be mounted to our optional aluminum frame stand so you can get your test up and running quick and efficiently. The frame is designed to adapt to your requirements allowing the actuator to be mounted above or below the testing area. The adjustable frame stand can adapt to most autoclaves, ovens or custom chambers, the small 2'X2' footprint allows many test setups in tightly constrained laboratory space.
The Model 5K Servo actuator is capable of controlling tensile loads continuously up to 5000 lbs (temporarily to 7500 lbs) while our Model 10K actuator is capable of continuous loads up to 10,000 lbs. Both actuators operate over a 3.25 inch stroke range and are capable of controlled rates between 1e-300"/min and 75"/min.
The control panel can be controlled manually or remotely to adjust the load, stroke or strain control point in real-time. A built-in waveform generator can be programmed to cycle or ramp the control point for hours, days or even months for unattended testing. Since the controller contains a closed loop digital PID controller, the control point is accurately managed in real time under a wide range of conditions.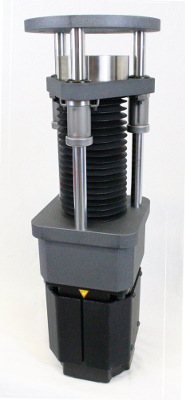 The servo control panel has an RS-232 serial and Ethernet port enabling a computer to have full control of the Servo controller for even more functionality. Languages such as LabVIEW, Visual Basic etc. can control the units operation while collecting data for long or short term data logging or real-time graphing. Custom computer based control panels can be developed to provide the required functionality for specific applications. Incorporating computer application programs to access and control the controller makes the Model 5K and Model 10K servo a truly flexible unit.
The short 28" height for the Model 5K frame and 31" for Model 10K frame allows it to be mounted under an existing table or test stand allowing unobstructed access above the work area. Pressure vessels, temperature and humidity chambers etc. can be mounted above the work area providing a wide range of controlled environments. With the load frame mounted virtually at any angle or orientation the 5K Servo adapts to a wide range of testing requirements.
Best of all the 5K and 10K Servo load frame does not require costly maintenance programs, special power requirements, dedicated location or expensive training like other materials testers.
Since the Servo controller is designed as a general purpose instrument, the uses are limitless. From creep testing to fatigue analysis, its functionality goes a long way.
Pricing starts under $30,000 for the Model 5K and under $37,000 for the Model 10K actuators. The optional frame stand for either actuator is available starting at $6000. More information is available from our FTP server at ftp.interactiveinstruments.com
Specifications