Interactive Strength Challenger Plus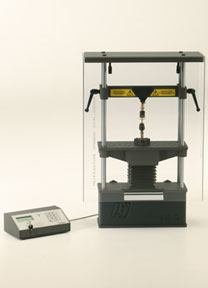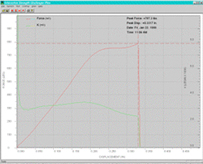 Note: The ISC+ is out of production until further notice
The ISC+ is a new low cost materials/structure testing system that can compress or tensile up to 1250 lbs. with 0.1 lb. and 0.0001 inch resolution. Easy to use commands can control the system to pull metal specimens apart or compress structures to study their properties in a safe classroom environment.
An optional materials evaluation kit is available complete with various metal specimens, test adapter and Windows tensile software. Easily evaluate the elastic properties of aluminum, brass, copper and steel by smoothly stretching them apart and plot the results for comparison. The software analyzes the test results and graphically identifies important properties such as yield and break points and calculates the modulus of elasticity. A materials report can also be printed to document the test the same way the industry records test results today.
With the optional Windows software the unit can control structure loading and display the load vs. displacement data graphically. After the test completes, further analysis can be done to evaluate structure rigidity and compare two tests by overlaying graphs. The results can be imported into a spreadsheet for further analysis.
The ISC+ is THE most advanced and complete structure and materials testing system available for the classroom environment.
Note: When using USB to serial adaptors, we recommend using the brand "Cables To Go", Model #26886 for best results.
Specifications