Jet Stream 500
The Jet Stream 500 is a low cost desktop wind tunnel with a 5 1/4" square 16" deep test area. Objects placed in the tunnel can be monitored for lift and drag while the actual wind speed is accurately controlled between 1.0 and 80.0 MPH using a pitot static tube. Airfoils and cars can be easily compared for aerodynamic efficiency and stability.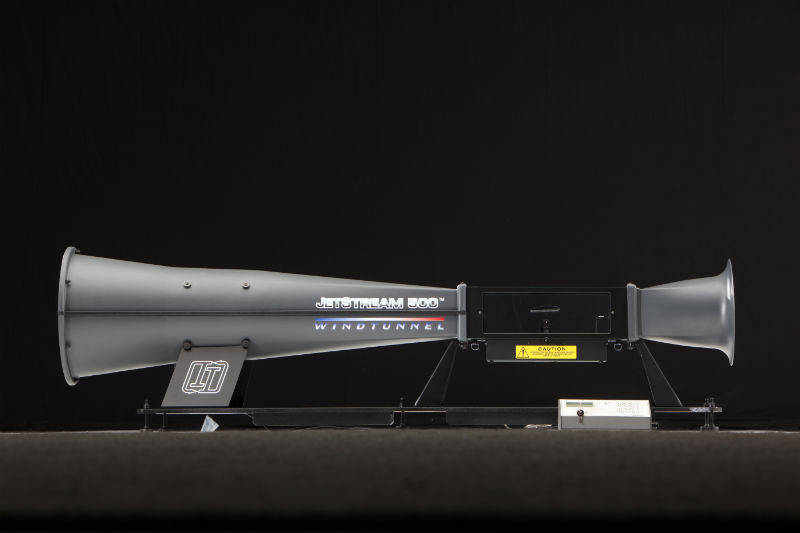 With the included Windows software, the unit can control the wind speed while displaying the lift and drag forces graphically. The L/D (lift/drag) can be graphically displayed for airfoils as well as the Cd (cross sectional drag) for cars to measure and compare design efficiency. After a test is complete, further analysis can be done to visually compare two tests by overlaying graphs or exporting the results into a spreadsheet for further analysis.
New in 2019 An air density calculator is now integrated into the Jet Stream 500 controller. Students can program the wind tunnels altitude, air temperature, barometric pressure and humidity (dew point or percent humidity) and the wind tunnel will automatically calculate the air density factor (roe) that matches the simulated conditions. This allows students to evaluate the impact of lift and drag at various temperatures or elevations to learn firsthand how these influence airfoils or cars. Students can simulate taking off from high altitudes on a hot day or the impact on a humid vs. dry day within the classroom. The air density changes can be viewed graphically on the computer display as well. This is an advanced feature typically found in expensive laboratory wind tunnels except the Jet Stream 500 wind tunnel by Interactive Instruments.
Interactive Instruments has been manufacturing the Jet Stream 500 with only minor improvements since 1993 which shows our dedication to STEM education.
If you have mis-placed your Jet Stream 500 Windows program, download the document (Jet Stream 500 Windows Software Programs.pdf) for instructions on downloading the appropriate software for your wind tunnel.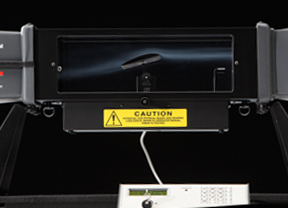 Many critical features are missing from desktop wind tunnels today. Several items listed below should be checked before purchasing your wind tunnel.
Be sure the tunnel has a long smooth tapered transition from the motor to the test area. The smooth transition is required so the air turbulence is minimized as it is pulled down the tunnel. Short tunnels generate excessive turbulence in the test area because air can't make sharp transitions without disturbing the air.
A low restriction flow straightener before and after the test area is a must. The holes should be small (3/8" or smaller) and deep (1.5" or greater) and have very narrow walls to remove the twists and turbulence from the fan and incoming air. Low cost plastic straighteners are typically too coarse and thick to function properly in a small wind tunnel. We found that thin wall aluminum hex cell material to be the best choice for desktop wind tunnels.
Be sure the tunnel has the ability to measure very small lift and drag forces. Small wings in a desktop wind tunnel generate light forces. Without high-resolution force measurements it is difficult to measure small model deviations. Many tunnels can't measure small forces due to design problems with excessive motor vibration and resonance.
The test area should be air tight to prevent the air from leaking onto the test model from all directions. A leaky test area will produce inconsistent test results.
Be sure the wind speed is properly controlled. Many tunnels today can't maintain a constant speed over the model because they don't have integrated wind speed sensors. Changes in the angle of attack or model size will significantly impact the test area's wind speed. If you can't be sure of the actual wind speed how can a student make reliable model comparisons.
Be sure the wind tunnel can be controlled and monitored by a computer. A full functioning interface includes the ability to control wind speed and monitor the test models lift and drag. A real time graph is helpful for students to visually compare the differences between various models and conditions. Many wind tunnels don't come standard with a computer interface and graphical software.
Most importantly be sure the wind tunnel manufacturer and distributor you select understand the basic principles in proper wind tunnel design and operation. If a wind tunnel manufacturer claims to know basic wind tunnel design rules but violates one or more of the above requirements, think again before purchasing.
Note: When using USB to serial adaptors for older serial port controllers, we recommend using the brand "Cables To Go", Model #26886 for best results.
View Examples of Customer Projects
Specifications